---

Our Airstream Adventure
Love all things travel and RVs? You've come to the right place! 🇺🇸 We're Lauren, Daniel, and Baby Dash. We live full-time in an Airstream Interstate Van. We hope by sharing our adventures, you'll be inspired to get out there and wanderlocal too. Trust us, it's good for the soul. ❤️
It's a wild wonderful world. Follow your heart and let the adventure unfold.
Join our Airstream adventures on YouTube
---
We publish new videos Tuesday, Thursday, and Sunday on YouTube sharing our most recent RV adventures.
---
Newborn in an Airstream? Are we crazy!?
Check out our newest RV! You're not going to believe it.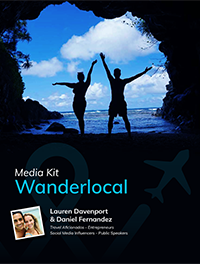 Get Involved with Wanderlocal
Looking for more information about Lauren and Daniel's story or sponsorship opportunities?
YouTube Live Events
---
We love hanging out with our friends and fellow wanderers. Here are two of our most recent YouTube Live events! If you'd like to join us, subscribe to our YouTube channel so you'll get notifications about when we're hosting the next one!
---