A couple of months ago, Daniel decided he wanted to run the Carlsbad 5000, which cemented our plans for a trip to San Diego in early April. A few weeks later, Southwest Airlines made a big announcement.
They were opening up flight routes to Hawaii – and because of this airlines everywhere were dropping their fares to all time lows, esp. on the flights from California to Hawaii.
It was an opportunity we simply couldn't miss.
For just over $300 per person, we booked round trip flights from San Diego to Kauai for a six-night, seven-day trip!
We wanted more than just a fun-in-the-sun week. We wanted adventure! So, we booked an Airbnb where the reviews promised that our host, Chris, a native Hawaiian, was the bee's knees and could help us explore Kauai more like a local instead of the typical cliche, cookie-cutter resort experience that you see in Hawaii commercials.
Boy, was it all that and more! From harvesting macadamia nuts at midnight to backyard fire dancing classes and hiking behind waterfalls, it was a weeklong adventure that we'll never forget.
What to Bring to Kauai
I'm going to skip the basics here and assume you've packed for a tropical trip before. You know to bring bug spray, swimsuits, camera gear, etc. I'm just going to share the things I wish I had known to bring before heading to Kauai. 
First, don't bring anything white. There is so much red dirt on the island that everything you bring is subject to its dye. 
Interested in hiking the beautiful trails of Kauai? Bring hiking shoes. Ideally, the waterproof kind. The hikes on Kauai are steep and you can use tennis shoes but if you escape without injury, it will be a small miracle. Also, the island is small and even if you decide last minute that you want to hike, finding hiking shoes for purchase on the island is darn near impossible – trust me, we tried. 
Transportation in Kauai
Our flight was with Alaska Airlines from San Diego to Kauai. It was about 6 hours, but like many airlines, they serve complimentary drinks and a couple of crackers but don't provide a meal. There are food options for purchase. We had a breakfast sandwich ($8) and a cheese plate ($8) on the flight there, which were both decent quality for airplane food. 
When we arrived in Kauai we picked up our Jeep rental, which we booked through Budget. The line was super long and took us about 30 minutes to get our car, but the staff was friendly and helpful and got us out of there as quickly as they could.
Daniel just couldn't live without getting a Jeep in Hawaii, which turned out to be a really good thing as taking the top off for some extra sun was a blast and a lot of the beach parking lots are so sandy and bumpy they could wreak some serious havoc on any vehicle sitting low to the ground.
I would highly recommend renting a car in Kauai. They do have Uber – but as many of the hikes and other adventures will take you all over the island, having a car really is ideal since you can drive the whole island in approximately an hour and a half to two hours.
Our Home in Kauai
This really was the highlight of our stay, as without staying at our Airbnb we simply wouldn't have had the chance to experience all of the things we did. We actually booked it about three days before we showed up – which I don't recommend as you may miss out on great spots – but we got lucky. Daniel actually found the spot, as he opened up the search to include Private Rooms, while I was only considering options where you have the entire place to yourself. I'm so thankful he did.
Our Airbnb was home to native Hawaiian, Chris Kam, who is one of the most generous and fun people we have ever met. It's located on the north side of the island on top of a cliff that overlooks the most picturesque view. The house is a two-story home that has been in his family for generations and has four bedrooms for rent.
We stayed in Bedroom #2 on the first floor, which was roomy and opens up with huge sliding glass doors to the back patio area with a stunning view of the ocean. It also had a padlock key on the outside of the door and a deadbolt on the inside, which I liked, as we've stayed in other private rooms that offered as little as a rock to put in front of the door before bed. (I'm not joking – there really was a rock.) 
The common space was also top notch, as it has a good sized kitchen and a large outdoor patio and yard. Upstairs also has a big bonus room area with views of the water, but we didn't use this area much simply because it was so beautiful outside. Chris is almost always cooking up something delicious in the kitchen that he's more than happy to share. From delicious coconut deserts to grilling steaks and serving delectable crab there was never a shortage of delicious food to eat. He has the refrigerator setup so that each room has their own shelf for keeping food and the kitchen is easy to navigate as he has the cabinets labeled telling you what is where. 
The people who stayed here seem to be drawn to the local, Hawaiian vibes that Chris gives because everyone we met staying there was awesome. We made great new friends that I know we will stay in touch with for many years to come. In true Hawaiian form, many mornings Chris had handmade leis waiting in the kitchen for the ladies of the house to wear for the day. When I would wear one out, other locals would stop me to tell me how pretty it was and share the story of the pua kenikeni leis. Chris also has a very sweet dog named Lucky who lives at the house as well and will quickly become your new best bud. 
If you're the kind of traveler where you want things to be quiet every night, this probably wouldn't be the place for you. It wasn't loud. But there were a few nights we all stayed up and had cocktails around the campfire and practiced our fire dancing skills until about midnight – which I'm sure would annoy some people – but we found to be wonderful. It also isn't a brand new home, so it's not in five-star hotel pristine condition or spotlessly clean, but the stunning views and hospitality made up for it tenfold. 
By the end of the week, Chris felt like family – or as he calls it ohana. I even got teary-eyed leaving because I know I am going to miss him and Lucky. But as a wise woman once told me, "you have to go to come back." We will definitely come and stay with Chris again next time we are in Kauai as there are many more adventures we have to explore together. 
Our Kauai Adventures
There is so much to do in Kauai that there is no way to do it all in a week. We spent the majority of our trip on the North side of the island, since this is where our Airbnb was, and we loved it. Heavy flooding did some pretty serious damage in 2018 on this side of the island. Many roads and hiking trails were closed due to the damage. The renovations are expected to be completed by summer 2019, but it didn't hamper our adventures.
Free Things to Do in Kauai
Many of our free adventures wouldn't have been possible without getting to know Chris and some of the other locals in Kauai. The people here are super friendly and they love sharing their favorite spots with you, as long as you promise not to tell everyone you know how to get there (aka don't blog about it!). Who can blame them though? These spots are largely untouched by tourism and provide insight into the true beauty of the island. Because of this, I'm going to share a little about these adventures, but will simply invite you to make friends with the people you meet to discover these hidden gems. Who knows, you will likely find secrets we didn't even have the pleasure of exploring. 
A Hike and Swim to Turtle Cave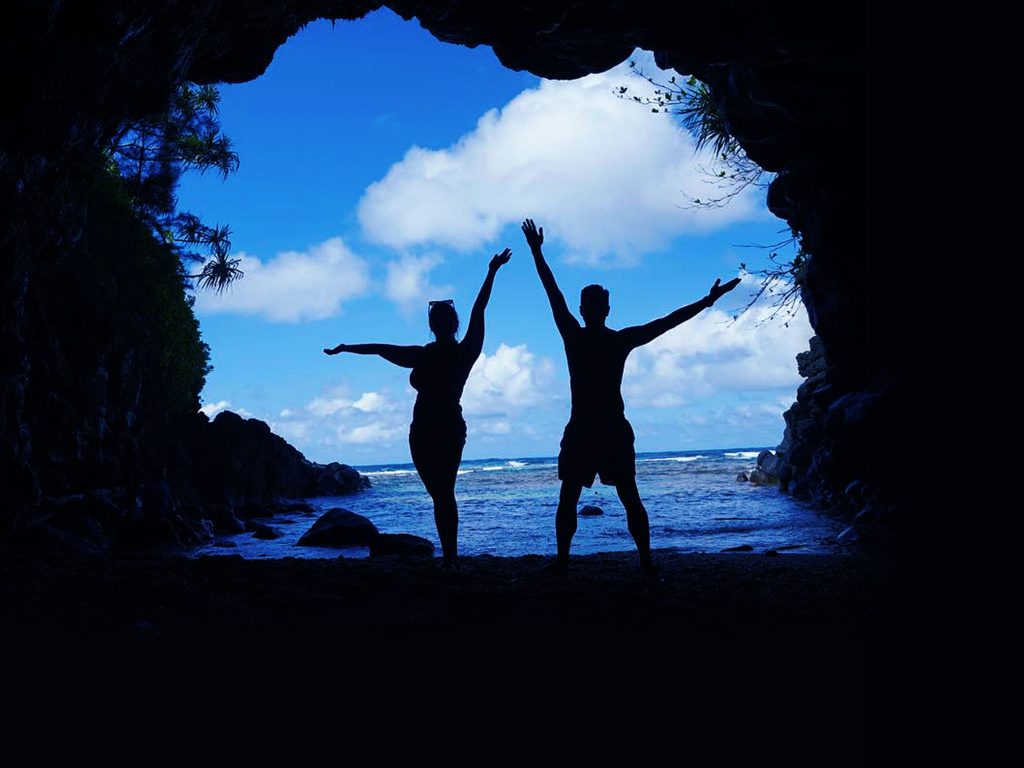 This is one of the first secret places we went. Chris had shown one of his other guests Turtle Cave and invited him to take us as well. Never in 100 years would have found this place on our own. We went down all sorts of back streets and into a neighborhood before illegally parking our Jeep and hiking down a small mountain to reach this treasured spot.
When you reach the bottom you are standing on lava-made rocks that jut out into a crystal blue ocean with gentle waves crashing around you. To your left will be the entrance to the cave which is approximately two stories high and shaped like a horseshoe. To get into the cave, you have to walk through waist-deep water and traverse the rocky ocean floor. But, the reward of standing on a sandy shore at the mouth of the cave is worth the trek.
You'll also need a flashlight for this adventure (we used our phones) because once you get past the entrance things get dark pretty fast. But, oh is it worth it. While we were there, sleeping in the back of the cave we saw five ginormous sea turtles that weighed over 300 pounds, some of whom had buried themselves in the sand. They didn't seem to mind that we were there. But, as turtles do bite, we stayed at least a couple of feet away from them at all times. Overall it was a magical experience and it's well worth the hike.
Side Note: If you love photography, this is a great spot to capture the wild sea turtles but I would suggest using the GoPro unless you are shooting for National Geographic and have some serious waterproofing for your gear because keeping things dry here is pretty difficult and risky.
Harvesting Macadamia Nuts in Kauai
Macadamia nuts are a big deal in Kauai. From delicious fish dishes to coffee, these nuts are used in almost everything. Our host Chris just happened to own a macadamia nut farm, so we got the authentic experience. One night we got out the flashlights, drove out to the farm, and searched for the nuts. Many of the nuts had a tiny little hole in them from bugs that love the nuts too. It was our goal to find the ones without this hostile invasion. And, it was oddly satisfying when you found this sacred prize. We cracked our bounty and ate them fresh the rest of the week. One of our other housemates even made macadamia nut cookies with them after we roasted them on the grill.
Ka Wailele "The Waterfall" in Kauai, a Queen's Bath Replacement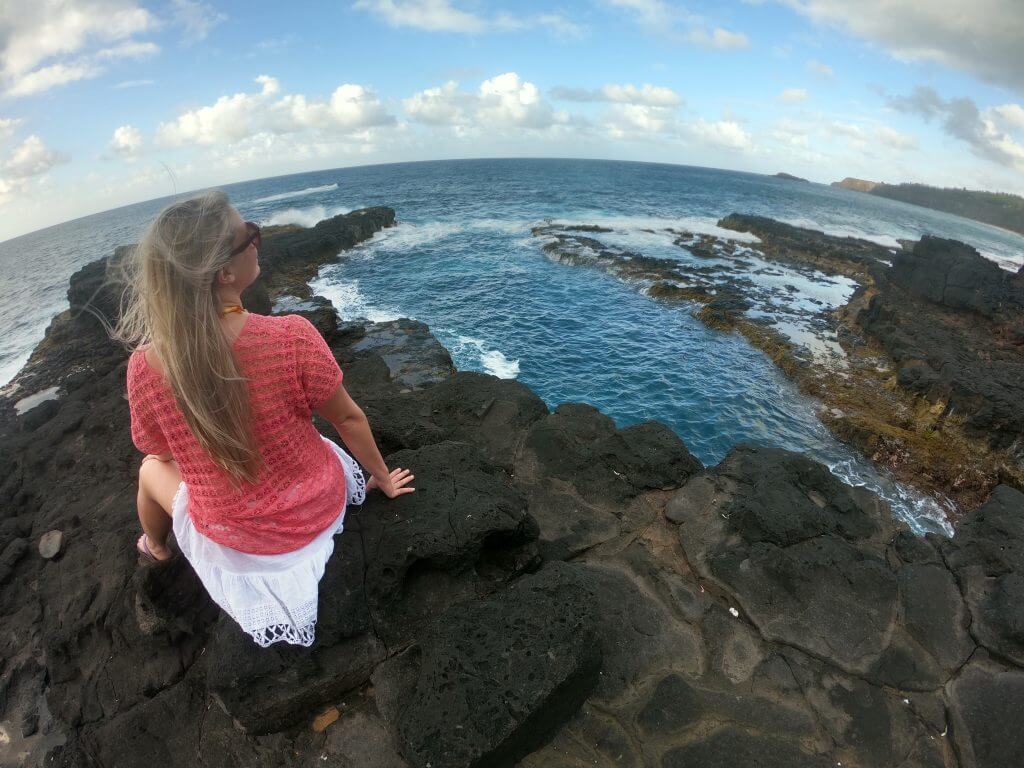 If you do any type of Google search about things to do in Kauai, you're bound to find Queen's Bath. It's on the north side of the island and it's super famous. What I didn't find when looking into Queen's Bath is that it's closed! Apparently so many tourists have died here, I heard everything from 27 to 80 this year alone, they decided to fence it off and call it a day. Now, that being said, there are people who jump the fence and go out there anyway but with a sign posted that has tick marks – one for each person who has died – that was a little much for us. When we told Chris about it, he said not to worry, he had an even better place.
In walking distance from the house, Chris lead us to a trail that was marked with a sign instructing us that parking was only for native Hawaiians. We followed Chris past the sign and down the trail. Luckily this hike wasn't as steep as the one to Turtle Cave, but the view was equally rewarding. You walk out onto cliffs made of lava rocks approximately 30 feet tall that stretch out into the roaring ocean. It looks almost identical to the pictures of Queen's Bath except it also has a little waterfall. We sat out on the rocks and I helped Chris braid a traditional Hawaiian whip out of palm tree leaves while the waves crashed around us. It was truly breathtaking. When I asked Chris what the place was called, he simply said "Ka Wailele." It means waterfall in Hawaiian. 
Fire Dancing Lessons in Kauai
One of the best things about hanging out with the locals is how small the island is which means everyone knows everyone. While I was searching one afternoon for actives to do for the week, I ran across a fire dancing class and was freaking out about how awesome that sounded. Chris was in the kitchen and overheard me talking to Daniel. "No need to pay for that," he said. His friend Abe was a fire dancer and could come over and teach me! (Insert mouth drop, couldn't-deal-with-how-excited-I-was face). Sure enough, that evening Abe came over, we lit up the fire stick and he taught me the basics of how to fire dance. I loved it so much, he even came over a second evening on our visit to show me more tricks. It was literally one of my favorite things from our Kauai adventure.
Albatross Watching in Kauai
Hawaii is a sanctuary to many birds, including the albatross. Thought of as a bad omen for sailors, the albatross is one of the most mythicized birds on earth. They are simply stunning to see fly as their wingspans can top 11 feet!
While at the Kauai Point Lighthouse (more about that below) our tour guide pointed out a few of these magnificent birds that were on a far off mountain. She asked if we could see them through the camera. When Daniel said "no" (we didn't have a zoom lens with us), she told us a secret. There is a series of roads in North Kauai where the Albatross mate and make nests in people's front yards! She gave us the name of the road and made us promise not to share it. She told us if we went we were sure to see both the adults and their babies up close.
So after we left the lighthouse we were on a mission. Sure enough, our trek was rewarded. We saw two large adult albatrosses and more than five fluffy grey babies. It was obvious that the neighborhood took great pride in its feathered inhabitants. The nests were protected by homemade barriers. And the baby albatross nests even had steaks in the ground with signs that gave the babe's "name." It was such a fun experience to see them up close!
Paid Kauai Adventures
Waterfall Meditation Immersion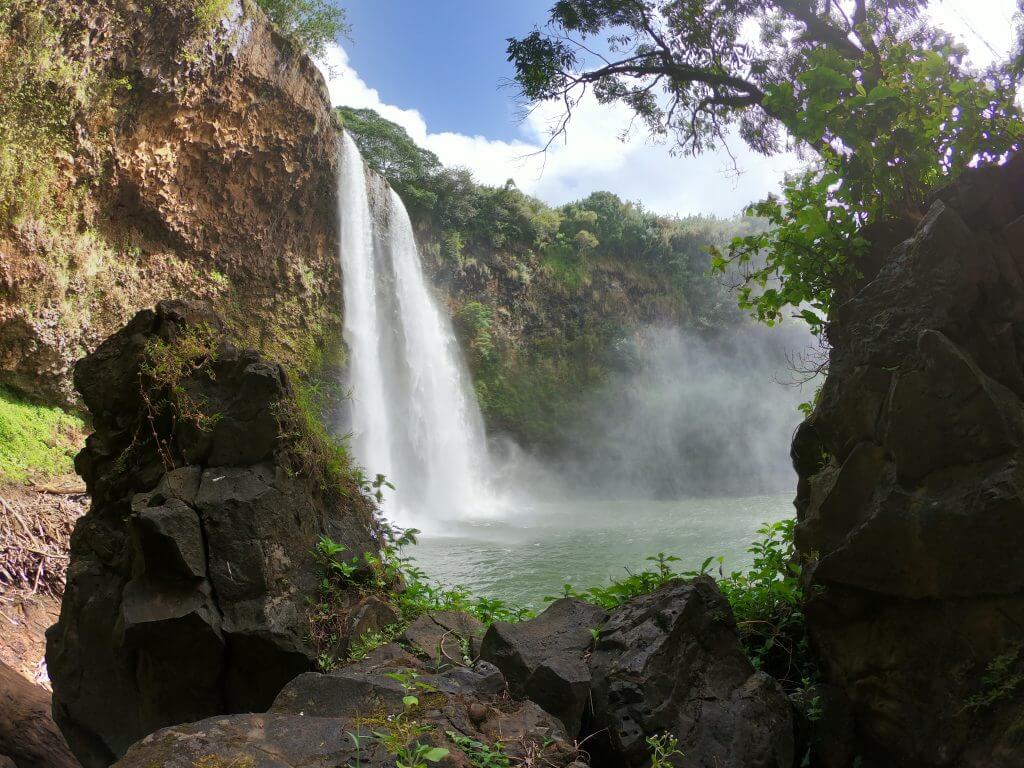 This was Daniel's favorite adventure of the trip. As I was searching AirBNB experiences for things to do, I saw a trip to hike to the bottom of Wailua Falls. The hike included a private tour guide, a guided meditation session, swimming, and a fresh coconut to top it off. We were all in. It was a 30-minute drive south to meet our guide, Chloe, who I immediately liked. Her peaceful spirit was so strong.
Then we drove another 30 minutes south to reach the falls arriving at around 8 a.m. The hike down to the waterfall is unmarked. To begin your journey, you hop a stone wall and walk behind a gate to get to the trail. Once you get there, it's easy to see it's pretty much straight down the mountain. The hike takes about 20 minutes with very few ropes and mostly just tree roots to hang on to. Daniel and I did this hike in tennis shoes, but I would strongly recommend hiking shoes if you have them.
Once we got to the bottom of the waterfall, we crossed the stream where Chloe set out meditation towels and lead us in a relaxing, mindful meditation as the mist from the waterfall drenched us. It was like something out of a dream. After the meditation, Chloe encouraged us to go for a swim. It was cold but totally liberating. We impressed ourselves by staying in the water for at least 10 minutes. Splashing and playing around before remembering we're from Florida. Our blood is too thin for all of that cold water.
Once we got out and warmed up, Chloe guided us through the next hike. It took us behind the waterfall where we were completely drenched. We laughed so hard I cried after getting soaked by an unexpected burst of water from the falls. The rainbows were abundant. Chloe took beautiful photos of us and we finished it all off with fresh coconuts. She told us about her hiking, yoga, and meditation business she is building in Kauai. The day was absolutely magical.
Blue Dolphin Tours Deluxe Nepali Snorkel & Scuba
After reading at least 50 travel blogs about Kauai, this was the #1 thing I couldn't wait to do. The Nepali Coast is super famous. You've probably seen it in a Hollywood flick or two and just not known what you were looking at. From Pirates of the Caribbean and Jurassic Park to a Nicki Minaj music video, this breathtaking coastline is a dream.
There are only three ways you can get to it – by helicopter, by boat or by hike. The hike is an overnight, hardcore, have-to-get-a-permit kind of hiking. That meant it was by air or by sea for us. Since we are SCUBA certified, the boat seemed like the most logical decision.
That being said, sometimes Daniel gets seasick. I called the tour company. "Do many people get seasick on this trip?" I asked. They said no. So, I booked it. But, when we got there and filled out the sign-your-life-away paperwork there was a big yellow highlighted line of text. It read: NO REFUNDS FOR SEA SICKNESS. If you travel with someone who gets seasick, know that this is the sign where you should turn around and walk away.

Luckily, the very first thing we did when the boat got out to sea was our SCUBA trip. The ocean is rough and the swells were in full force. It took both of us some time to feel comfortable and get under the water, but it was worth it. We saw so many beautiful brightly colored fish. We even saw a few sea turtles swimming only a couple feet away. Our SCUBA instructor Whitney was great, and we were the only ones who did the SCUBA so that was really nice. It was only a 35 to 45 foot dive and lasted about 30 minutes. For the extra $50, it was totally worth it. 
Once we got back onto the boat, things didn't go so well for Daniel. Suffice to say that the highlighted text was there for a reason. He was violently seasick for the entire five and a half-hour trip. I definitely am not going to win wife of the year this year, but I did get him ice chips. The staff was very attentive, so I was able to still have a blast. They served breakfast and lunch on the boat. And, on the way back from the Nepali Coast they had local Hawaiian beers and Mai Tais.
The Nepali Coast is magnificent. And, seeing it by boat is the experience of a lifetime, pending you don't suffer from seasickness. Needless to say, we now know that when it comes to remote places you can only see by air or sea, we're air people.
Kauai Point Lighthouse
After our day on the water, Daniel was ready for a chill adventure with his feet firmly planted on the ground. So, we decided to check out the Kauai Point Lighthouse. Built in 1913, it is the furthest west lighthouse in the United States. It's located in a state park on top of a cliff. The lookout point is known for whale watching during the high season from January through March. Sadly, I didn't see them. But, Daniel saw them when he was out for a run. A group of them played together out in the ocean. If you are looking to learn a little more about the history of Kauai in a relaxing environment, this is a fun, cheap one-hour excursion.
Things we missed and will come back for in Kauai
The Traditional Luau
There are quite a few luaus on Kauai. But, the shows only happen on certain nights. And not on Saturdays, at least none that I could find in a 30 minute Google search. I strongly suggest doing your research and buying tickets before coming to Kauai so you don't miss this. We were told they can be quite touristy and often overpriced. But, it's still on my list to do at least once on one of the islands in the near future.
More Hiking Adventures
Many of the hikes in Kauai are intense and our tennis shoes simply didn't cut it. Hiking shoes really are a requirement if you don't want a bruised butt or a swollen ankle, so we will be bringing these along on our next Kauai adventure to ensure we can safely hike more of the treacherous trails on her beautiful terrain.
More Secret Beach Hunting
Apparently there's a trick to this and guidebooks, isn't it. A local told us the easiest way to find the best secret beaches is to use Google Maps. Simply pull up the app on your phone and search the coastline for places that have bright blue water on the edges of the island, but don't have a name on them. These beaches are often the most secluded spots you will find. She also told us that the best time to do secret beach hunting is before 11 a.m. Apparently, every once in a while a tourist or two will find a real secret beach, but it almost never before 11.
Kauai, we love you.
Overall, we loved our authentic Kauai experience but just hate that we didn't stay longer. After all, it's not a short flight to Hawaii, no matter where you're coming from. When I plan our next Kauai adventure, we'll make sure to stay at least 10 days. Anything less simply doesn't do the island justice for all she has to offer. Until next time, aloha!