As we were staying on the North side of the island, most of our favorite local eateries were here, but there are a couple listed that are on the East side.
I'm sure there are a ton of awesome places to eat in the South side of the island as well, we just didn't spend enough time there to find them. This list isn't exhaustive but features our absolute favorites from the week.
It is important to note, esp. when talking about food in Kauai, that the island is known for things to do in the sun, not their nightlife, so don't wait too late to go to dinner. You may find yourself at a grocery store picking up a frozen pizza past 9 p.m. as very little is open that late and serving food.
Kauai Beer Company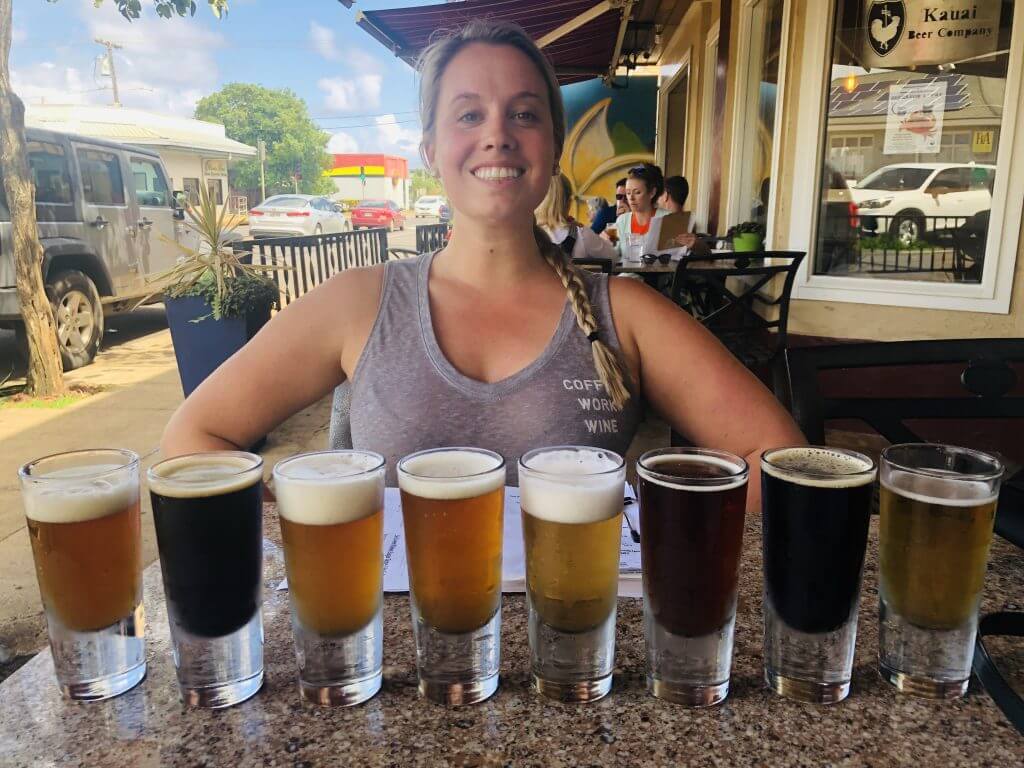 As soon as we got off the plane we were starving. So, we jumped on Yelp and found the Kauai Beer Company. We ordered a flight of all of their brewed-on-site beers and were surprised to find that they were quite delicious. Since we were starving, we made great healthy decisions and ordered pretzels with beer cheese and a hearty Mac and Cheese. They were both delicious, although looking back now it may have been because we were so damn hungry. This is a great spot that is quick to get to after a long flight, as it's only 5 or 10 minutes from the airport.
Palate Wine Bar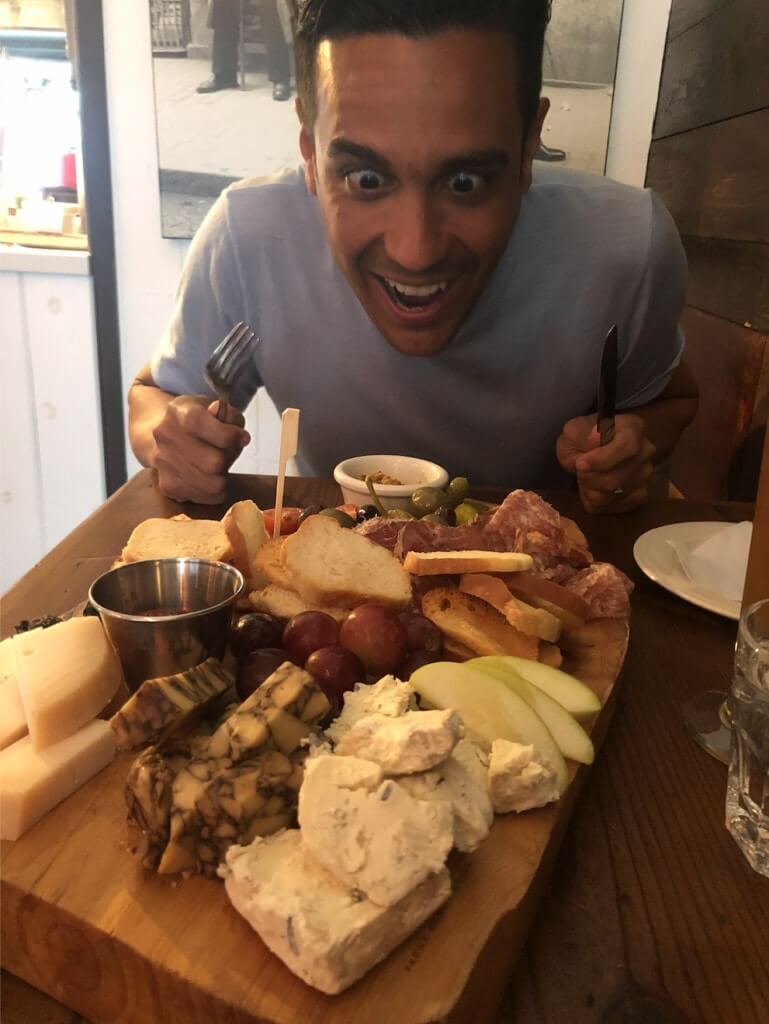 We ate here twice and tried to eat here a third time, but got there too late. The cheese and charcuterie plate is to die for. It's also totally affordable as it's under $30 for the board which can easily feed two people. We never made it past the first course here. But, from the looks of other people's plates and comments, the rest of the food is just as good. They have a handful of flatbreads that look amazing and are known for their custom soups. We're going to miss this place.
Trucking Delicious
Food trucks on Kauai are everywhere and their food is top-notch. When we got here, I asked my favorite question to the cashier "what's your favorite thing on the menu?" She immediately answered with the Ono special and the Mac and cheese. So of course, that's what I did despite the fact that I had no idea what Ono was. Come to find out, it's a flaky, white fish, and she was right, it was to die for. Actually one of my favorite fish meals of all time. Daniel ordered something that was less memorable, but still good. When we come back, we will eat here again for sure.
Trilogy Coffee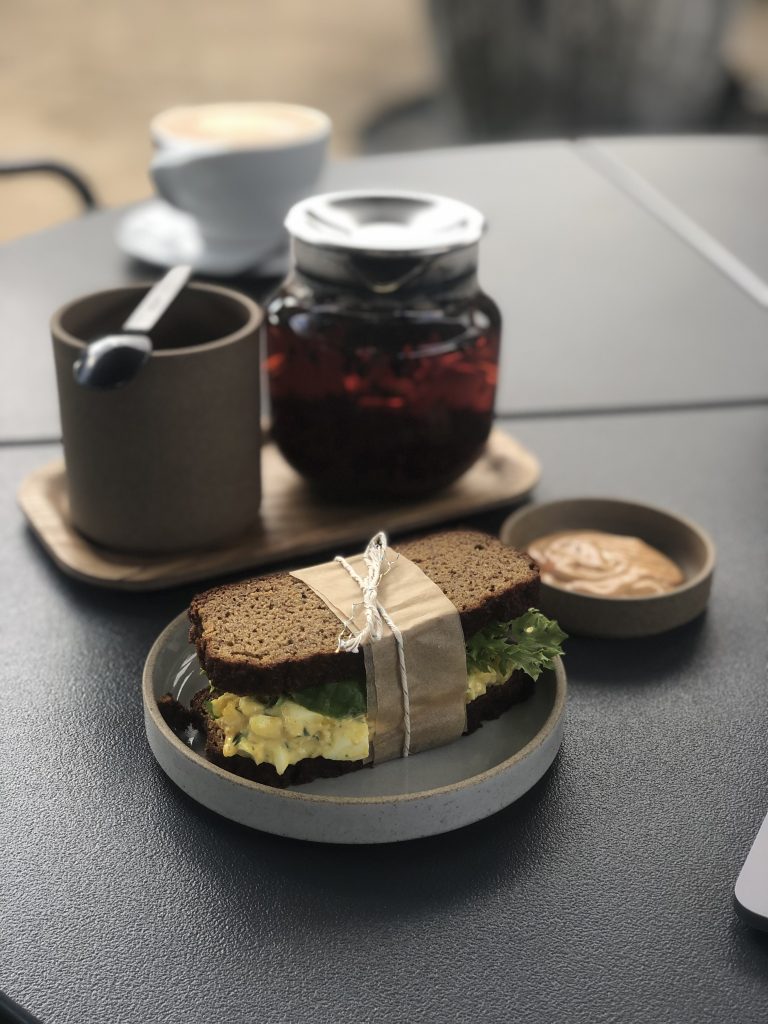 One of our favorite things to do when we are traveling is to find a favorite local coffee shop. This one was it for north Kauai. Not only do they have delicious coffees and teas, but they also had delectable healthy food options. Some of our favorites were a paleo breakfast sandwich and a vegan white chocolate raspberry cheesecake. Both were the kind of dishes that would make you slap your grandma. We went here every morning while we were in Kauai.
Kauai Juice Co Kilauea (Juice Bar)
Right around the corner from Trilogy Coffee is Kauai Juice Co, which has two locations on the island. Daniel and I are addicted to starting the morning with Ginger Shots, which is basically a compilation of ginger, ground red pepper and turmeric turned into juice. Theirs was called the Ginger Fire shot and it was awesome. We also tried their aloe shot, which is supposed to be great for your skin. They also had a raspberry kombucha on tap with CO2 in it. It was a little lighter and less slimy than other kombuchas I've had in the past. To top it all off, this place is super affordable for a juice bar. We are used to paying $5 to $7 per ginger shot and theirs was only $2 per serving.
The Bistro
Most of the restaurants in Kauai are pretty casual. The atmosphere at The Bistro is, but the complexity of the food is not. We came here on a recommendation of another house guest at our Airbnb. H raved about the Fish Rockets, saying they were out of this world. So, we had to try them. And, he was right. In fact, everything we ate here was delicious. We also ordered the prosciutto-wrapped goat cheese and split a delicious Hawaiian take on roast beef. We topped the dinner off with a pineapple cobbler and were sufficiently stuffed and happy. The only drawback on The Bistro is the bill. Everyone knows that everything in Hawaii is pretty pricy, but this place can compete with New York City prices. Worth it? For a splurge – totally.
Kilauea Bakery and Pizza
One evening we were too late to visit the Palate Wine Bar. So, we simply walked over to Kilauea Bakery and Pizza which is located in the same strip. This place is yummy! We ordered a medium pizza which had pineapple on it. This is a luxury I only get in Hawaii because Daniel typically hates pineapple on pizza. Like most of the food on the island, what made it so good was how fresh the ingredients were. The toppings were piled sky high and it was mouth-watering good. Highly recommend stopping by here if you are craving a pie.
NOM Kauai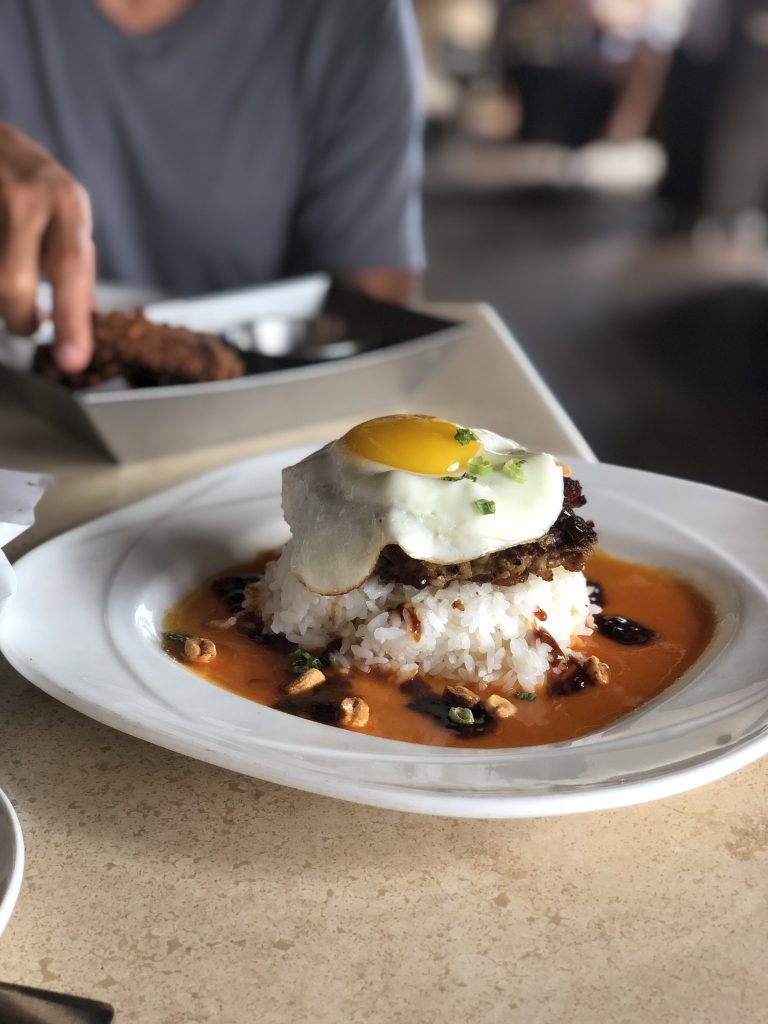 Best brunch of my whole life and it's only 20 minutes from the airport. If you like spicy food for brunch, you're going to die over this place. We ate here the morning we went to the airport, after finding it on Yelp as a fan favorite. It didn't disappoint. Daniel ordered The Southern Chik, which was insane. The biscuit was so flaky and it was at least a solid 4 inches high soaked in homemade gravy. Even though his was great, mine was even better. I ordered The Notorious P.I.G. which is a cheddar jalapeno cornbread waffle with maple pork belly and a sunny egg. It was a unique culinary adventure with every bite. This place may literally be good enough to fly to Kauai for.
We're Kauai food fans
From casual, quick dining to sophisticated cuisine, Kauai has something for everyone. And, you can guarantee it will be super fresh.