Joshua Tree National Park is magical. It's like you're in the middle of nowhere, but it turns out there are all sorts of cool things to do! In this blog post, we'll talk about our top 10 favorite things to do in Joshua Tree. We hope you enjoy it!
Top 10 Things to Do in Joshua Tree
1. Visit Cholla Gardens at Sunrise
The garden is located just a mile from the Visitor Center. There are benches and picnic tables where you can enjoy your breakfast, lunch or snacks before continuing on with your explorations of Joshua Tree National Park.
We recommend taking it in around sunrise – that's when the cacti turn pink-red (depending on how much sun) and it's a really special time of the day.
The cholla cacti are fascinating little plants. If you look closely, they're covered in prickles and some sort of fuzzy stuff. They grow like crazy – which is why the park needs to cut them down often (due to fire danger).
Squeezing between the cacti trees at Cholla Gardens can be a little challenging but so worth it for all that cool spiky goodness!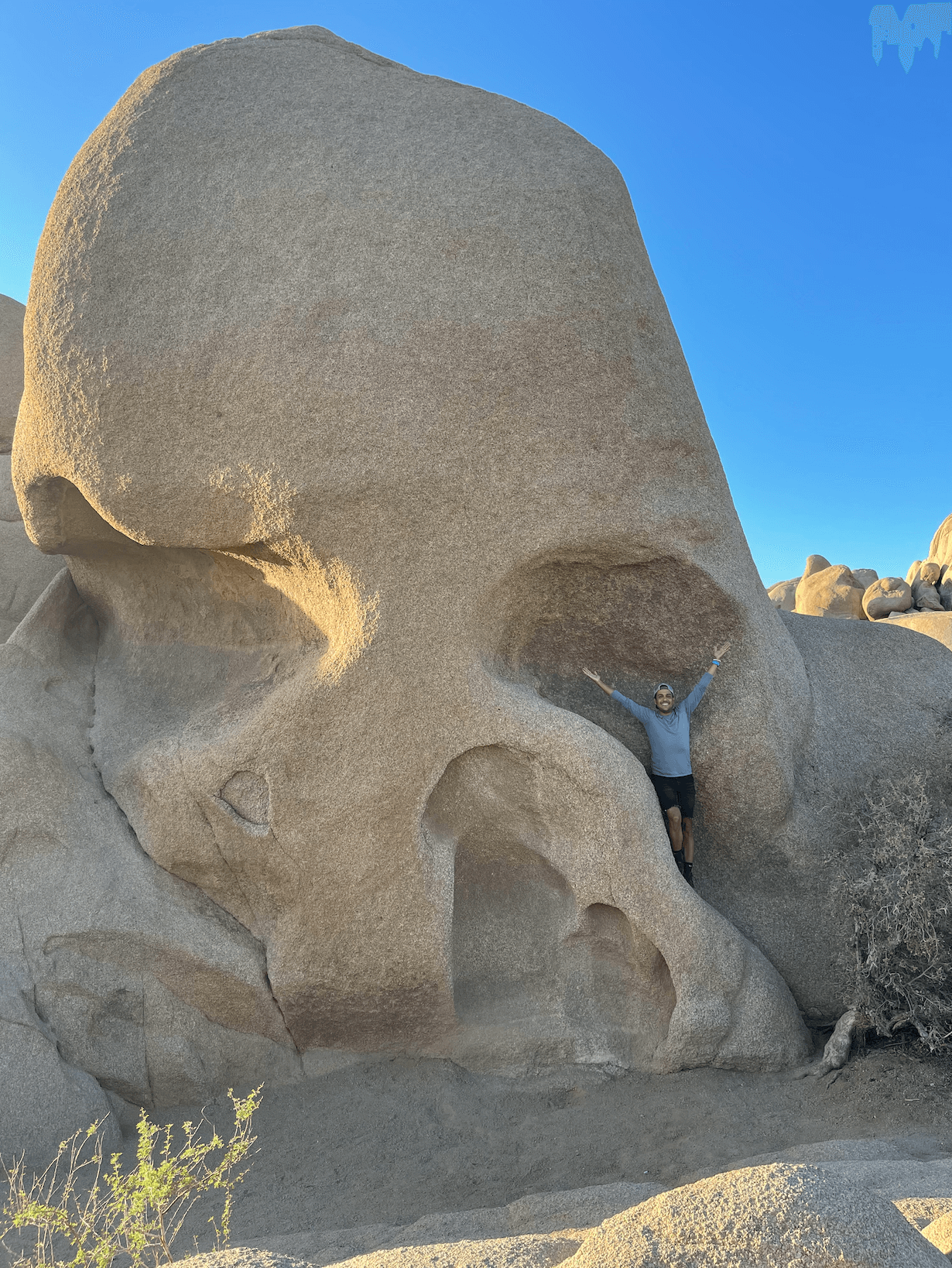 2. Test your climbing skills at Skull Rock
Okay, to be honest, our climbing skills suck. But, we've seen people climbing Skull Rock for the perfect selfie, so we had to give it a try.
Skull rock is a great place for climbing, bouldering, and exploring. The rock is much taller than it looks from the ground (it's about 30 feet high), so climbing it isn't quite as easy as it looks.
The first thing you'll tackle on Skull Rock is a set of stairs – they're made out of cacti. You can either go up or down these stairs, and you'll soon encounter a fork in the trail with two potential routes to take.
If you're looking for an easier climb, head up to the left side of Skull Rock. If you feel more adventurous (or are just really good at climbing), then go for our right route! Both trails end on the top – but once again, the left side is a much easier climb.
We really enjoyed exploring Skull Rock – we're definitely going to go back and give it another try after a few climbing lessons!
The next few things on our list is a hike locals told us was a can't miss.
3. Hike Hidden Vallen Trail at Joshua Tree National Park
Hidden Vallen Trail is a great hike for beginners. It has gentle inclines and the views are spectacular, especially in the early morning or late afternoon light!
The trail is a loop, so you can hike it in either direction. But there are several different trails that intersect Hidden Vallen Trail and each has its own unique features – like the more difficult West Loop or East Ridge with its panoramic views of the park's landscape below.
It also connects to other popular hikes like Ryan Mountain and the Queen Valley Trail.
4. Grab a cup of joe at Joshua Tree Coffee Company
Some of the best coffee in all of Joshua Tree can be found at Joshua Tree Coffee Company.
If you're in need of a caffeine boost, we recommend ordering their signature drink: the Desert Wind – it's made with two shots of espresso iced coffee and chocolate! And if you're looking for a good place to sit down with your coffee, they have an outdoor patio area as well!
Other than being delicious, this is also one time when drinking your java will do some good. All proceeds from the sale of these drinks go to protecting Joshua Tree National Park.
5. Get Brunch at Crossroads Cafe
We love Crossroads Cafe in Joshua Tree for its delicious brunch menu.
They have everything from vegetarian dishes to classic breakfast items like eggs benedict and huevos rancheros. They also offer a variety of salads, sandwiches, burgers, entrees – you name it! And they're all priced under $12 (which is great for a brunch!)
Daniel had the Beyond burger and I ate a delicious tofu hash. The staff was also super friendly, which made the whole experience even better!

6. Camp at Joshua Tree Lake RV Park
This may be one of our favorite RV parks that we've stayed at in the Airstream.
The campsites are spacious and there's a ton of trees, which provide great shade and some privacy between sites. And it has a really nice lake for fishing and swimming which was flush with baby ducks when we were there in early June.
It's also family-owned, which we love.
Another great part about this campground? It's just a 15-minute drive from Joshua Tree National Park (and it has really easy access to the freeway)!
7. Attend a show at Joshua Tree Music Festival
Right next to the campground is the home to the one-and-only Joshua Tree Music Festival. Each year they have two big festivals, and they always sell out. We were here for the Summer Concert Series and it was wonderful.
The open-air venue has three stages – one of which was set up for the summer series. The sound quality is impressive – there are huge speakers all around that make it easy for everyone to enjoy the bands playing at any given moment. It also means that no matter where you sit or stand you won't miss any of your favorite songs because they're blasting through the speakers.
And, if you want to simply listen from your campground, you can do that too! But, don't worry. They are super respectful of quiet hours and knocked off before 10 p.m. while we were there.
If there's a show going on while you're visiting, it really is a can't-miss.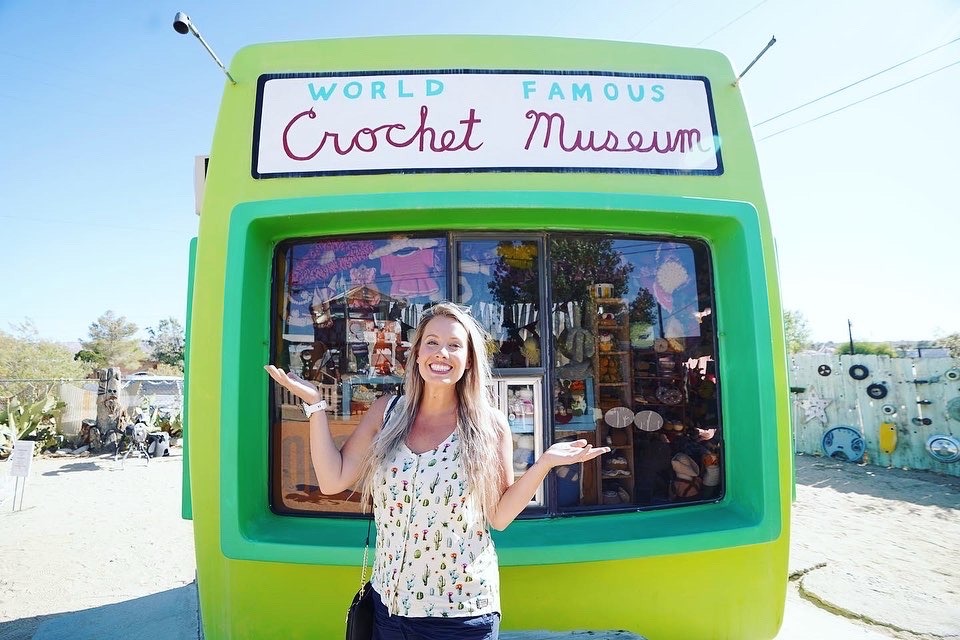 8. Explore the World Famous Crochet Museum
This tiny little wonder was one of my favorite unique finds in Joshua Tree.
Curated by local Shari Elf, the Crochet Museum is a converted drive-through photo stand. It is now home to just about every type of crochet animal and figurine you can think of. Crazy fact, Shari doesn't crochet. She just passionately loves these little critters that she's been collecting since the early nineties.
The museum is free to enter and is open Friday through Sunday.
Oh, and if you're an animal lover like we are – don't forget to keep your eyes peeled for the Shari Elf Animal Rescue Center!
My favorite thing about this museum is how it embraces creativity. I think a lot of us can agree that even though crochet may not be our cup of tea, there's something really special about the creative juices it takes to make these little masterpieces.
9. Shop for local goods at the Joshua Tree Farmers Market
We love the Joshua Tree Farmers Market!
It's a great place to explore, not only because of all the different vendors you'll find there like fruits and vegetables that we can't get anywhere else in California – but also because it is such a wonderful representation of the environment. It taps into an ethos where buying local goods supports family-owned businesses and the local way of life.
The market is open every Saturday from 8 am – 1 p.m. (and they have live music!) And if you're lucky, on Sundays there's a special Sunday Market that takes over a nearby park with vendors selling crafts as well as food trucks to feed your hungry stomachs!
10. Hike Barker Dam Trail at Sunset in Joshua Tree National Park
This was definitely one of the highlights of our trip to Joshua Tree.
Barker Dam Trail is a moderate hike that starts at around 1000 feet above sea level and climbs up another 800 or so feet in elevation by the end. But, it's worth every step! The trail looks out over Barker Dam (which has this unbelievable pink hue and is really peaceful) while leading you to a gorgeous overlook that can't be beat.
The best time to hike this trail is sunset when there are the most beautiful views, but it also has plenty of trees for shade. The average time to complete the loop is about an hour, but it can take longer depending on your speed and how fast you hike.
If you come during cooler months, you may even get lucky and see water running through Barker Dam, but it's worth coming through the summer for the gorgeous pink colors of the sunset.
Final thoughts on Joshua Tree
We really loved our trip to Joshua Tree. It was so much fun exploring one of the most unique places in California. The desert is a refreshing change from what we're used to with all its natural beauty and a different set of challenges that it presents. We can't wait for you guys to visit!
Already visited? Leave a comment below and tell us about your favorite things to do in this beautiful and quirky desert oasis.